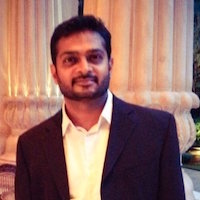 Satheesh Subramanian is presently VP of Engineering for AR Content Platforms at Blippar. He brings over 18 years of experience working on interactive and non-interactive media and tools development. Prior to Blippar, Satheesh held key R&D roles at DreamWorks Animation and Intel Corporation. At DreamWorks Animation, he headed the R&D organization for DreamWorks Animation in Bangalore, India, developing high performance animation, cinematography and big data solutions. He has over 10 movie credits to his name including the Oscar nominated "How to Train your Dragon", "Kung Fu Panda" and "Madagascar" series. He holds a patent for a novel system for arbitrary motion retargeting. At Intel, he held senior research and consulting positions within Intel's Design Technology & Software Solutions Group. He has presented many technical papers and talks at leading industry conferences such as SIGGRAPH and GDC (Game Developer Conference).
Satheesh holds an MBA from the Anderson School of Management, UCLA, specializing in entrepreneurship and entertainment management. He received an M.S in Computer Science from the University of Illinois at Chicago specializing in Virtual Reality, in addition to a M.Sc(Hons) in Mathematics and a B.E(Hons) in Computer Science from the BITS, Pilani.
He lives with his wife and 6-yr old son in Fremont and when he is not programming or playing with his son, Satheesh likes to dabble with his favorite stress busters – painting and singing karaoke with his family.